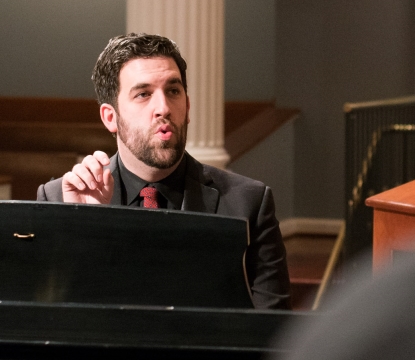 The Chorale is pleased to welcome Mac Willaert to the combined role of Accompanist and Ensemble Director.
Mac studied music at North Central College in Naperville (IL) and has worked extensively with Dr. Ramona Wis, founding director of the Glen Ellyn-Wheaton Chorale. Mac's experience has included accompanying and working as a substitute director at Rosary High School in Aurora, as well as acting as assistant conductor of the choral program at North Central College, where he has directed a number of vocal ensembles. He currently is serving as staff musician at Oswego Presbyterian Church.
When asked what he was looking forward to this year, Mac stated, "As a long-time choral musician, I am so endlessly excited and optimistic about what lies in store for the Chorale and Ensemble. Having had the chance to interact with the group a bit, I feel very strongly that the group can head in a very strong direction, and I can't wait to get started with these singers."
This email address is being protected from spambots. You need JavaScript enabled to view it.