You are here:
Home
Shop
Recordings
Starry Night and Candlelight (Christmas 2012)
Recordings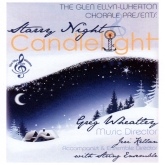 Cost: $16.00
(plus $1.00 handling
for online orders)
Songs Performed:
Keep Your Lamps
Gloria (Mozart)
Christmas Tidings:
 I. Good King Wenceslas
 II. What Child Is This?
 III. On Christmas Night
 IV. Lo, How a Rose E'er Blooming
 V. Hark! The Herald Angels Sing
Stille Nacht
O Tannenbaum
Stars Are for Those Who Lift Their Eyes
Sure on This Shining Night
Before the Marvel of This Night
Winter Wonderland
All on a Starry Night
Twas the Night Before Christmas
Festival Gloria
Un Flambeau, Jeannette, Isabelle
I'll Be Home for Christmas
Deck the Hall
Audition to Join Us!
The Glen Ellyn-Wheaton Chorale is still accepting auditions for
Tenors and Basses
Please fill out our online
Audition Request Form
if you're interested in singing
with our group!
To hear from our members about their reasons for singing with the Chorale, see our special video:
Upcoming Events
Mark your calendar
for our next concert event!
Wintersong 2021
"Merry and Bright"
Friday, December 3
7:30 p.m.
Saturday, December 4
3:00 p.m.
College Church
335 E. Seminary Avenue
Wheaton, Illinois
Friends of the Chorale
Keith and Melody Bodger

Wheaton, IL
Song Level
Arthur Kulak
Elk Grove Village, IL
Song Level
Phyllis Ludwig

Glen Ellyn, IL
Song Level
Draper & Kramer
Mortgage Corp.
Downers Grove, IL
Melody Level
Joseph Lombardo
and Family
Glen Ellyn, IL
Melody Level
Lorraine and Robert
Nieland
Naperville, IL
Song Level
Johnson Medical Services
Winfield, IL
Melody Level
Todd and Amy Steenson

Batavia, IL
Song Level
Jim Mamminga

Aurora, IL
Melody Level
Sharon and Bill Knott
Batavia, IL
Melody Level
Daniel James

Sugar Grove, IL
Melody Level
Jennifer and Steve Nahn

Batavia, IL
Melody Level
Parmelee WebWorks
Full Musical Score Level
UnitedHealth Group
(Susan Miller)
Minneapolis, MN
Song Level
Esther and Mark Peterson

Wheaton, IL
Song Level
Scott Hayner,
United Graphics & Mailing Group
Elk Grove Village, IL
Song Level
Roger and Mary Beth Butler

Naperville, IL
Song Level
Diana M. Visco, DDS
Roselle, IL
Melody Level
Jeff Kling

Batavia, IL
Melody Level
Linda DeRaad

Glen Ellyn, IL
Melody Level
Paul Drennan

Glendale Heights, IL
Song Level
Ann and Charles Evans
Glen Ellyn, IL
Melody Level