You are here:
Home
Shop
Recordings
An American Legend: A Tribute to Robert Shaw (Spring 2009)
Recordings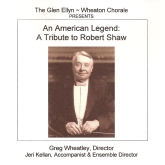 Cost: $16.00
(plus $1.00 handling
for online orders)
Songs Performed:
I Got Shoes
Oh! Susanna
Nelly Bly
Swing Low, Sweet Chariot
My God Is A Rock
The Croppy Boy
No One's Perfect
De Camptown Races
Deep River
Begin, My Soul
Set Down Servant
Vive L'Amour
Bring a Torch, Jeanette, Isabella
Fum, Fum, Fum
Dere's No Hidin' Place
Buffalo Gals
Bright Canaan
Saints Bound for Heaven
Wondrous Love
Hark, I Hear the Harps Eternal
Upcoming Events
Make plans to join us
for our festive holiday concert!
"Wintersong 2017"
Christmas with the
Glen Ellyn-Wheaton Chorale
Friday, December 1
7:30 p.m.
Saturday, December 2
3:00 p.m.
College Church*
335 E. Seminary Avenue
Wheaton, Illinois
map/directions
See our Tickets page for prices
and purchasing options!
*THIS EVENT IS NOT SPONSORED BY OR A FUNCTION OF COLLEGE CHURCH
Audition to Join Us!
The Glen Ellyn-Wheaton Chorale will be holding auditions for
Tenors & Basses

in preparation for our
Spring 2018 concert season.
Please fill out our online
Audition Request Form
if you're interested in singing
with our group!
To hear from our members about their reasons for singing with the Chorale, see our special video:
Friends of the Chorale
Arthur Kulak
Elk Grove Village, IL
Song Level
Jeff Kling,
Southpaw Painting

Oswego, IL
Melody Level
Julie and Thomas Hogan

Lisle, IL
Song Level
Diana M. Visco, DDS
Roselle, IL
Song Level
Ann and Charles Evans
Glen Ellyn, IL
Melody Level
Larry Fuhrer,
Presidential Services
Naperville, IL
Song Level
Parmelee WebWorks
Full Musical Score Level
Sharon and Bill Knott
Batavia, IL
Melody Level
Lon and Linda Oury

Wheaton, IL
Melody Level
Joseph Lombardo
and Family
Glen Ellyn, IL
Melody Level
Lorraine and Robert
Nieland
Naperville, IL
Melody Level
Share Us with Others
Tweet
>