You are here:
Home
Shop
Recordings
Songs of Life, Love, and Eternity (Spring 2011)
Recordings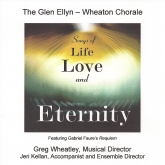 Cost: $16.00
(plus $1.00 handling
for online orders)
Songs Performed:
How Can I Keep From Singing?
Gabriel Faure's Requiem Op. 48:
 I. Introit - Kyrie
 II. Offertory
 III. Sanctus
 IV. Pie Jesu
 V. Agnus Dei (click to listen)
 VI. Libera Me
 VII. In Paradisum
We Shall Walk Through the Valley in Peace
One Voice
Singin' in the Rain
I Dreamed a Dream
Don't Rain on My Parade
Down in the River to Pray
Will the Circle Be Unbroken?
Paper Moon
Sigh No More, Ladies
Who Is Silvia?
Michelle
The Music of the Night (from Phantom of the Opera)
Just a Closer Walk With Thee
You'll Never Walk Alone (from Carousel)
Upcoming Events
Make plans to join us
for our festive holiday concert!
"Wintersong 2019"
Christmas with the
Glen Ellyn-Wheaton Chorale
Friday, December 6
7:30 p.m.
Saturday, December 7
3:00 p.m.
College Church
in Wheaton
Ticket Information Coming Soon!
Friends of the Chorale
Arthur Kulak
Elk Grove Village, IL
Song Level
Paul Drennan

Glendale Heights, IL
Song Level
Draper & Kramer
Mortgage Corp.
Downers Grove, IL
Melody Level
Sharon and Bill Knott
Batavia, IL
Melody Level
Esther and Mark Peterson

Wheaton, IL
Song Level
Johnson Medical Services
Winfield, IL
Melody Level
Daniel James

Sugar Grove, IL
Melody Level
Joan Treland,
Treland Educational
Services/Treland Academy
Glen Ellyn, IL
Melody Level
Carlson Dental

Wheaton, IL
Song Level
Anonymous Donor

Wheaton, IL
Melody Level
Linda DeRaad

Glen Ellyn, IL
Melody Level
Parmelee WebWorks
Full Musical Score Level
Ann and Charles Evans
Glen Ellyn, IL
Melody Level
Lon and Linda Oury

Wheaton, IL
Song Level
Diana M. Visco, DDS
Roselle, IL
Melody Level
Jeff Kling

Batavia, IL
Melody Level
Lorraine and Robert
Nieland
Naperville, IL
Melody Level
Larry Fuhrer,
Presidential Services
Naperville, IL
Melody Level
Joseph Lombardo
and Family
Glen Ellyn, IL
Melody Level
Scott Hayner,
United Graphics & Mailing Group
Elk Grove Village, IL
Full Musical Score Level