The Glen Ellyn-Wheaton Chorale
Vienna to Venice Performance Tour
June 19–29, 2019
The Chorale is preparing for another European performance tour, this time traveling from Vienna to Venice, with many exciting singing opportunities along the way!
The 10-day tour begins in Vienna, Austria, continues through Slovenia and Croatia, and concludes in Venice, Italy. Throughout the tour we will be singing informally and formally at various venues such as St. Stephen's Cathedral and Esterhazy Palace in Vienna; the Basilica of Melk Abbey in Melk, Austria; the Church of the Assumption in Bled, Slovenia; and Postojna Cave in Postojna, Slovenia.
We are excited to include joint concerts en route with local choirs in Klosterneuburg, Austria; Ljubljana, Slovenia; Rovinj, Croatia; and Mirano, Italy. We always enjoy the cultural exchanges these musical collaborations provide, and we hope to make many international friends as we share our love of music with the people of several countries!
Can you help by donating to our tour funds?
We are currently fundraising to help defray the cost of travel and expenses involved with the trip. If you are interested in making a donation for the tour, please use the PayPal button below, or download and print our Tour Donation Form. As a reminder, we are a 501(c)(3) not-for-profit organization, so your donation is tax deductible.
Thank you for your support of the Glen Ellyn-Wheaton Chorale!
The Glen Ellyn-Wheaton Chorale
Performance Tour to Spain and France
June 17–26, 2016
The Chorale recently embarked upon another exciting trip abroad, this time visiting Glen Ellyn's Sister City of Le Bouscat, France. The Sister City partnership was formed in April 2014 in order to foster mutual opportunities for cultural, educational, and economic exchanges that highlight the diversity and rich culture between the two international partners. Le Bouscat is located in the Bordeaux region of France and shares many similarities with Glen Ellyn, such as population size, a strong local economy, and a vibrant and engaged citizenry.
The Chorale's 10-day tour began in Barcelona, Spain, continuing on to Carcassonne, Sarlat-la-Canéda, and Bordeaux in France. Throughout the tour we enjoyed singing informally and formally at various venues such as Sagrada Familia in Barcelona, Basilica of St. Nazaire in Carcassonne, Sarlat Cathedral in Sarlat, and a monolithic church in Bordeaux. We also provided a special performance during the Fête de la Musique in Limoux. We were excited to include joint concerts en route with the Chorale Populaire de Limoux, the Ensemble Chorale de Sarlat, and the Chorale Pizzicati in Le Bouscat.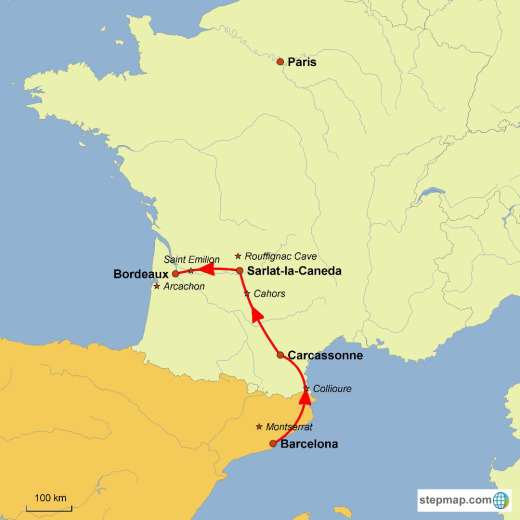 See our photo albums related to this 2016 Spain & France GEWC Tour!