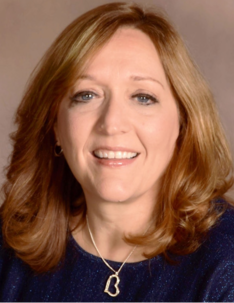 Kristin Young is thrilled to be a part of the GEWC community and honored to direct the Chorale Ensemble. Joining the group in 2022, she looks forward to being a part of their community outreach programs, spreading joy and beauty through the gift of music.
Kristin received her bachelor's degree in piano performance from DePaul University in Chicago, where she also minored in voice and conducting. She received the Bishop's Certificate in Church Music following a two-year course of study from the Evangelical Lutheran Church in America and the Episcopal Church in America.
She is the Director of Worship and Music at St. Mark's Lutheran Church in Aurora, IL, where she has served for 26 years. She is a part of the leadership staff and is responsible for planning all worship services and overseeing the Music Ministry, where she directs all vocal choirs and a music education program on Wednesday evenings. Kristin is also the principle organist and pianist at the church. She has taken the St. Mark's Festival Choir on tour overseas six different times, performing in Austria, Ireland, Italy, Germany, France, and the Czech Republic.
Kristin also maintains a private piano and voice studio.
Kristin has consistently worked to promote music and the fine arts in Aurora, assembling and directing collaborative concerts with orchestras and choirs, and assembling musical ensembles for community outreach and fundraisers.
She and her husband, Bruce, live in Plainfield, IL, where they love spending time with their four adult children, three sons-in-law, and four grandchildren. They travel when they can and enjoy movies, concerts, and the great outdoors.
Kristin can't wait for you to hear the beautiful voices of the Chorale Ensemble.
This email address is being protected from spambots. You need JavaScript enabled to view it.