Wintersong 2020: A Virtual Christmas Concert
We're pleased to present this year's Wintersong concert—in virtual mode! The concert contains a blend of new pieces we've produced virtually, featuring both our full Chorale and our smaller Ensemble, plus a few specially selected songs recorded during past Wintersong concerts.
We believe this festive presentation will bring joy and warmth to your heart as we celebrate this year's Christmas season! Enjoy!
If You Enjoyed the Concert...
Our annual Wintersong concert is virtual this year, presented free of charge on our YouTube channel. The virtual singing concept was a new one for the Chorale, but we jumped in feet-first and added some of our old favorites from earlier concerts. As you can imagine, a production like this brings unexpected costs such as hiring skilled production people. Would you consider supporting the Chorale as we endeavor to keep music alive during these unusual times? Please visit our Support the Chorale page. There you can become a "Friend of the Chorale" and make a donation if you enjoyed our virtual concert. We miss seeing you in person and hope to be with you again soon! Watch for another virtual concert (or two) in the spring!
Welcome to the Glen Ellyn-Wheaton Chorale
The Glen Ellyn-Wheaton Chorale has been providing an eclectic mix of choral music for Chicago's western suburbs for more than 30 years. You'll find everything from the classics to jazz to spirituals on the Chorale's concert programs—all performed by people who love to sing! The Chorale is home to 60-70 singers from a variety of backgrounds. Our goal is to enjoy and appreciate the gift we have in music, and to bring that gift to you in our concerts. We hope to see you in our audience very soon!
A Note from Our Director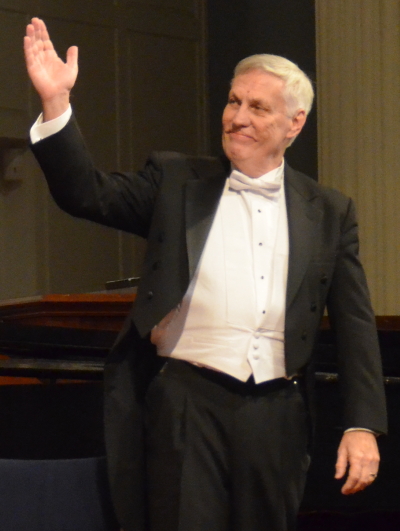 Greetings, friends of the GEWC!
One of the most memorable and poignant images to emerge from the early days of the worldwide COVID pandemic was that of people gathered on their balconies, singing to one another. One video, shared on Twitter in March, just a few weeks after the outbreak, showed people in the Italian town of Siena, filling the streets with their socially distanced voices.
Singing is ingrained in the human spirit. In these difficult times, when so much seems to be so disrupted, we still find ways to express ourselves in song. That has been true of so many choral ensembles around the world, and it has been true of the Glen Ellyn-Wheaton Chorale. While COVID has meant that we have been unable to meet for in-person rehearsals and concerts, the Chorale has been meeting virtually in our regular Tuesday evening time slot. The singing isn't the way we'd like, of course. But we still can sing, and we can stay connected with one another.
We in the Chorale love Christmas! And we love the music of Christmas! This year, we are sorely missing our opportunity to see you at our annual Wintersong Christmas concerts. But we want to invite you to join us for Wintersong 2020 virtual style! The Chorale and Ensemble have worked on producing some virtual choir pieces which allow us to sing "together but from our own homes." How's that for a paradox? We're presenting these virtual pieces and some in-person favorites from our video archives, and you're welcome to watch free of charge from the comfort of your own home. After our initial release on December 11, the video will remain available for your viewing through Christmas and beyond.
I hope you'll plan to join us for Wintersong 2020: A Virtual Christmas Concert! You'll find the video right here on our website. And please help us spread the word to your friends and family around the world!
Greg Wheatley
Musical Director, Glen Ellyn-Wheaton Chorale