This is "the week that was." Football players have their "two-a-day" workouts, and the Chorale has its "two-a-week" rehearsals. Our normal rehearsal schedule has us together for two hours once a week—Tuesday nights. But for two weeks just prior to our concerts, we meet on two consecutive evenings—two hours each night. It's fatiguing, let's be honest. But the exhaustion gives way to the joy we feel in anticipating two wonderful concerts at the end of the week. There's nothing quite like the thrill of hearing beautiful music come together, the many voice parts finding their way into the grand mix that is choral music. Add to that the beauty of the Christmas texts and tunes, and well.....it's something I look forward to every year.
If you've been following this blog, you know that Mac Willaert and I have been giving you a sneak peek into some of the things you'll be hearing in Wintersong 2017: Christmas with the Glen Ellyn-Wheaton Chorale. In this final post before our concerts, I thought I'd take a step back and give you a bit of an overview of our concert. I'm going to try to do that without "giving away the store." After all, we DO want you to experience the concert for yourself this weekend!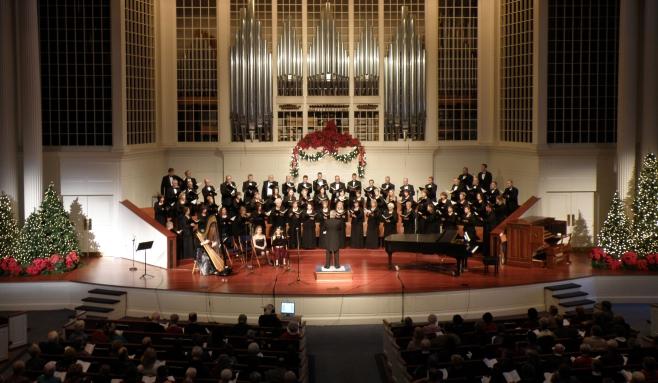 That picture you're seeing is the beautiful sanctuary of College Church in Wheaton. It's been our singing home for something like 13 years now, and we love it! You will too! As you can see in the picture from a previous Christmas, you'll find the sanctuary decked out in Christmas colors, waiting for the sounds of the choir to fill it. And those majestic pipes in the front? Yes, those are real! And you'll hear them the very first thing as the Chorale sings Mack Wilberg's rousing setting of Hark! The Herald Angels Sing. Immediately after the last chord subsides, the organ crescendos again, and you are invited to join us in singing Joy to the World. That will be the first of more opportunities for you to sing favorite songs of Christmas with the Chorale.
The first half of our concert includes a rollicking arrangement of Here We Come A Caroling, a poignant setting of See Amid the Winter's Snow, and the ensemble singing Ruth Morris Gray's No Room No Room. Just before intermission, you'll be tapping your toe to Shawn Kirchner's Brightest and Best, which features Kristen LeJeune on fiddle. Yes, I said fiddle! And wow! You just have to hear it!
After a brief intermission, it's two lively settings of two familiar carols: God Rest Ye and Deck the Hall. Mac Willaert and the ensemble return to sing Ola Gjeilo's haunting Spotless Rose. Then it's time for you to sing again, with a medley of familiar carols. Eric Whitacre's Glow (originally written for Walt Disney World), Ding Dong! Merrily on High, and Fum Fum Fum lead into a fun-filled arrangement of Gloucestershire Wassail, complete with organ and percussion, with the Chorale wassailing you in surround sound!
What better way to welcome in the season of Advent and Christmas! We'd be honored to have you join us! Remember—there are two performances: Friday, December 1 at 7:30, and Saturday, December 2 at 3:00. Tickets are available through Thursday night by clicking on the ticket banner on this page. After that, they are available at the door for both Friday and Saturday concerts. And please check out our newly lowered student ticket prices! It's now more affordable to pack up those kids and bring them with you!
I hope to see you at Wintersong 2017: Christmas with the Glen Ellyn-Wheaton Chorale!
Greg Wheatley
Music Director, Glen Ellyn-Wheaton Chorale