You are here:
Home
Shop
Recordings
Wintersong 2013
Recordings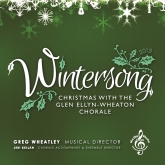 Cost: $16.00
(plus $1.00 handling
for online orders)
Songs Performed:
Ecce Novum Gaudium
Angels' Carol
Angels We Have Heard on High
Glory to God in the Highest
Come, Come Emmanuel
O Magnum Mysterium
Joseph Dearest, Joseph Mine
Patapan
Fum Fum Fum
Baby, What You Goin' to Be?
Mary's Lullaby
All Bells in Paradise
Ai, nama mamina
Hark! The Herald Angels Sing
Betelehemu
Huron Carol
Wonder Tidings
Follow That Star
Come On, It's Christmas
Blow, Blow Thou Winter Wind
Good Ale
We Wish You a Merry Christmas
Silent Night
Upcoming Events
Make plans to join us
for our festive holiday concert!
"Wintersong 2019"
Christmas with the
Glen Ellyn-Wheaton Chorale
Friday, December 6
7:30 p.m.
Saturday, December 7
3:00 p.m.
College Church
in Wheaton
Ticket Information Coming Soon!
Friends of the Chorale
Scott Hayner,
United Graphics & Mailing Group
Elk Grove Village, IL
Full Musical Score Level
Ann and Charles Evans
Glen Ellyn, IL
Melody Level
Linda DeRaad

Glen Ellyn, IL
Melody Level
Arthur Kulak
Elk Grove Village, IL
Song Level
Diana M. Visco, DDS
Roselle, IL
Melody Level
Draper & Kramer
Mortgage Corp.
Downers Grove, IL
Melody Level
Joseph Lombardo
and Family
Glen Ellyn, IL
Melody Level
Johnson Medical Services
Winfield, IL
Melody Level
Parmelee WebWorks
Full Musical Score Level
Carlson Dental

Wheaton, IL
Song Level
Lon and Linda Oury

Wheaton, IL
Song Level
Esther and Mark Peterson

Wheaton, IL
Song Level
Anonymous Donor

Wheaton, IL
Melody Level
Paul Drennan

Glendale Heights, IL
Song Level
Joan Treland,
Treland Educational
Services/Treland Academy
Glen Ellyn, IL
Melody Level
Daniel James

Sugar Grove, IL
Melody Level
Sharon and Bill Knott
Batavia, IL
Melody Level
Jeff Kling

Batavia, IL
Melody Level
Larry Fuhrer,
Presidential Services
Naperville, IL
Melody Level
Lorraine and Robert
Nieland
Naperville, IL
Melody Level